02, October 2015: It is reported that FOSJOAS intelligent self-balancing scooter U3 was rolled out as the second model of two-wheeled scooter by Moben Global Inc. this year. Moben Global Inc. released another two-wheeled model for certain reasons.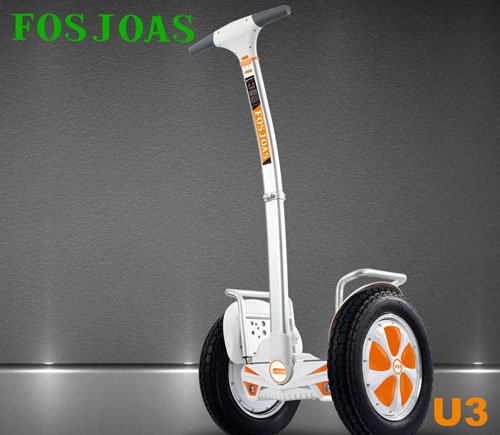 FOSJOASelectric self-balancing scooter U3 is clearly an upgraded version of FOSJOAS V9. The roll-out of FOSJOAS V9 caused sensation in the whole market for scooter. The original two-wheeled system did give the scooter-lovers and visitors of the exhibition a surprise. Days after FOSJOAS V9 went to the market, it received an avalanche of positive feedback from the customers and the end users. To keep the high momentum of two-wheeled scooter, Moben Global Inc. decided to release another model of two-wheeled intelligent scooter. Against that background, Moben Global Inc. released FOSJOAS U3. FOSJOAS U3 shares the same design and frame of bodywork with FOSJOAS V9. Therefore, FOSJOAS U3 is publicly regarded as the upgraded version of FOSJOAS V9. Of course, there are many considerable modification in FOSJOAS U3.
As anelectric self-balancing scooterpositioned as the personal all-terrain vehicle, FOSJOAS U3 is equipped with the larger wheels than FOSJOAS V9. The larger wheels enable FOSJOAS U3 to smoothly pass more tough and complicated terrains. As a result, FOSJOAS U3 pass the muddy path and craggy path like taking candy from a baby.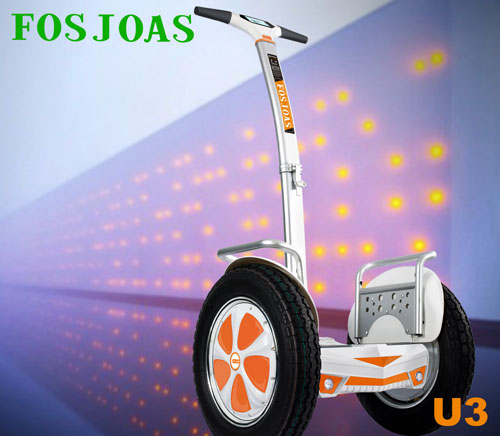 The most considerate design is the wing mounted on FOSJOAS U3. Unlike V9, U3 possesses a wing on the front. The wing serves to shield U3 from the muddy water and dust. Since FOSJOAS U3 claims to be a personal all-terrain vehicle, it is supposed to pass the complicate and muddy terrains. Especially when U3 passes muddy path, the muddy may splash over U3. The Splashed muddy water will dirty the surface of U3 and mar the inner parts. In order to keep U3 keep, it is a must to install a wing on U3.
For Media Contact:
Person Name: Mr Tang
Company: Changzhou Moben Technology Co.,Ltd
Phone: +8618861270200
Email Id: [email protected]
Website: http://www.fosjoas.com/